OUR CERTIFICATES, SUSTAINABILITY AND ENVIRONMENT FRIENDLY PRODUCTION
With both corporate activities we perform in our organizations and the seminars we receive from expert consultant companies, we give importance to the training of all departments and production staff. With training on many subjects from sustainability to environmental consciousness, from effective and efficient production to the work safety, we contribute the sectoral and visionary development of our personnel. Having a FSC certificate, our company cares for production sensitivity against the environment with the other quality certificates.
We, as Canpak Packaging, serve our customers with completely integrated facility, equipped with state of the art technology and our 20-years' experience in the offset printed folding box and litho laminated box packages. We, as Canpak Packaging, produce high quality box package for the offset printed box needs of our customers as a result of a reliable and stable production process, compatible with ISO standards. You may review below for evaluating all current certificates we have.
High Global Standards in Food Safety with BRC
BRCGS is a leading organization used by 29,000 certified suppliers in more than 130 countries and which aims protecting consumers. The aim of BRC certificate is to create a framework covering internationally recognized food standards and to support development of food safety. The standards determined by BRC guarantee quality, safety, and operation criteria standardization and ensure protection for the final consumer. All qualified food manufacturers, which know the importance of BRC certificate prefer AA-grade certified Canpak Packaging.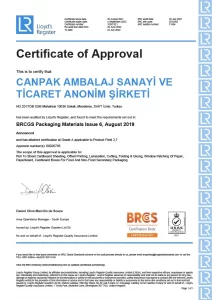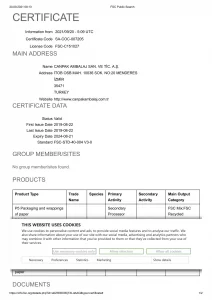  A Sustainable Future with FSC®
FSC® is the initials of International Forest Stewardship Council® organization. The purpose of FSC® organization is to provide forest resources in the whole world to be managed correctly, to define methods related with this, to explain standards and to audit and monitor these standards are applied by covering all organizations within the forest industry across the world by independent and accredited bodies. Canpak Packaging aims to utilize  products of forest origin consist of certified, well managed forest inputs and these products are manufactured without mixing with forest products without certification in any stage of the supply chain within the FSC® Audit Chain framework. With a current FSC® certificate, Canpak Packaging is one of the important offset printed box manufacturers in both domestic market and abroad.
 Environmentally Conscious Products with ISO 14001
Canpak Packaging devotes itself to protecting, improving and respecting environment. This certificate means compatibility with all laws and arrangements in the field of environment as well as adapting a way of business sensitivity to the environment. ISO 14001 Environment Management Certificate is the certification of many activities conducted by Canpak Packaging every day. Packaging institutions having ISO 14001 aims to achieve the compatibility of their customers to local/global regulatory conditions, as well as decreasing the risks for the environment.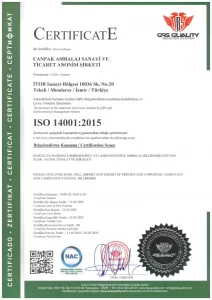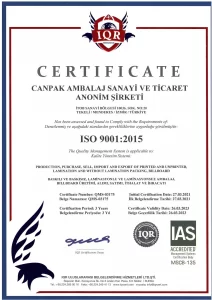 Consistent high quality with ISO 9001
This standard bases on a series of quality management principles such as customer orientation, process approach, continuous improvement, and top management motivation. Implementing ISO 9001 quality management ensures that our customers buy consistent, high quality products and services from us.
Socially aware supplier with ISO 45001
ISO 45001 offers a framework for encouraging a regular and efficient health and safety management for the organizations. ISO 45001 certificate of Canpak Packaging indicates our devotion to fulfill our legal responsibilities, to continuously preserve and improve the health and safety of the employees.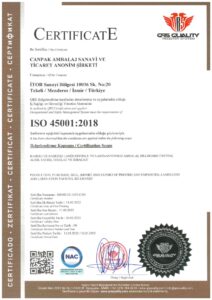 Food Safety Management System with ISO 22000
It is a management system standard covering the conditions necessary for ensuring that the food is safe at the moment of consumption and the threats against food safety are kept under control for the organizations included in the food chain. ISO 22000 which is a certificate which we, as Canpak Packaging, have currently, is an international standard defining the requirements of the food safety management system.