HIGH QUALITY PRESS PROCESS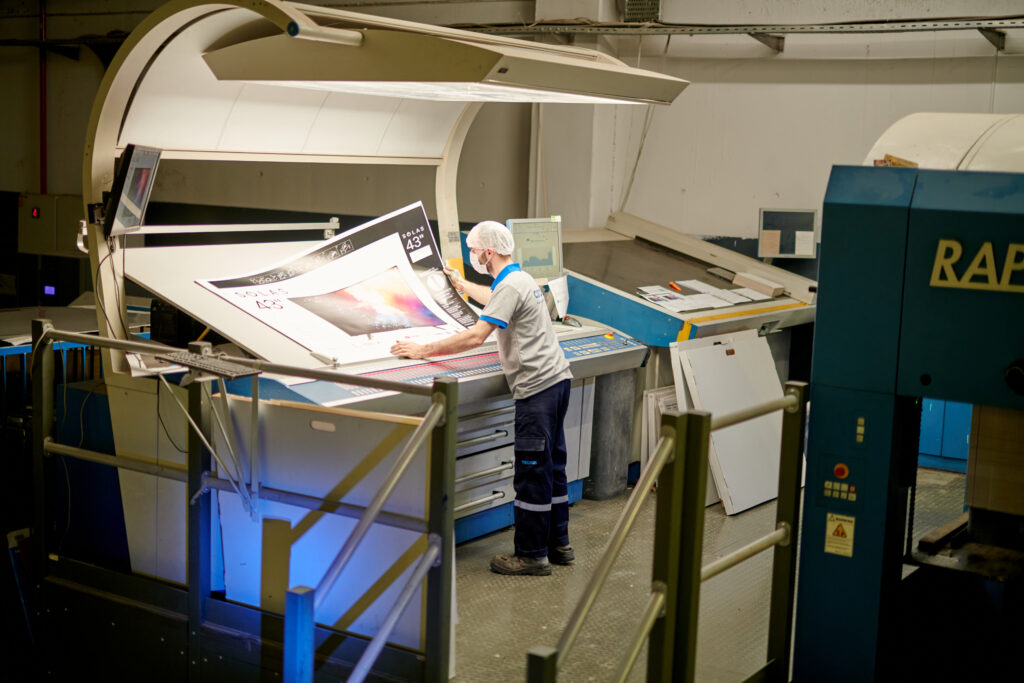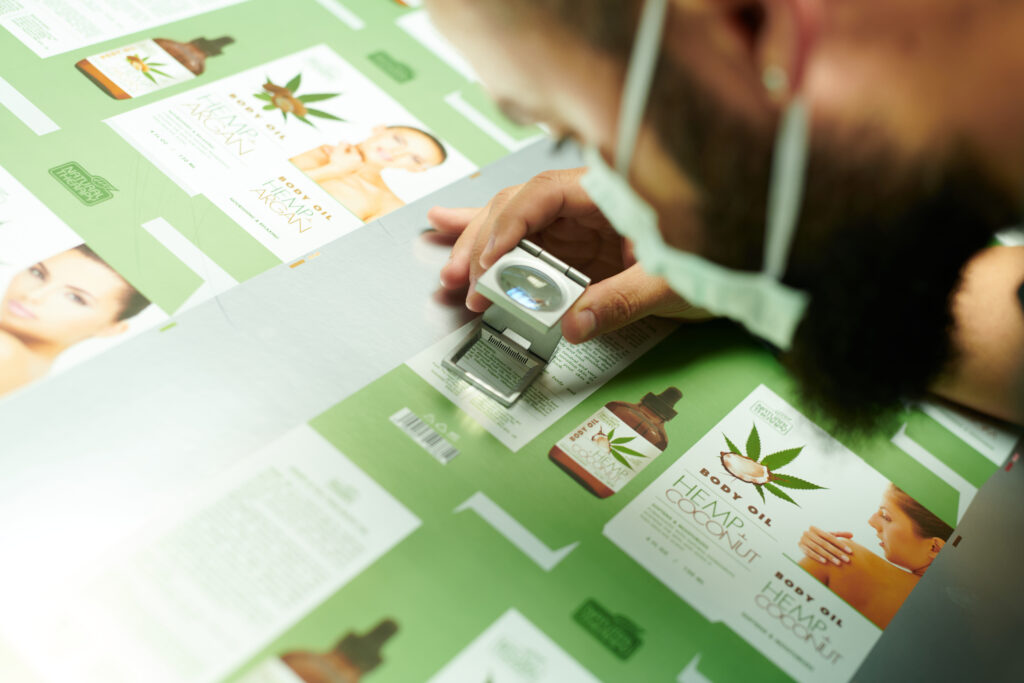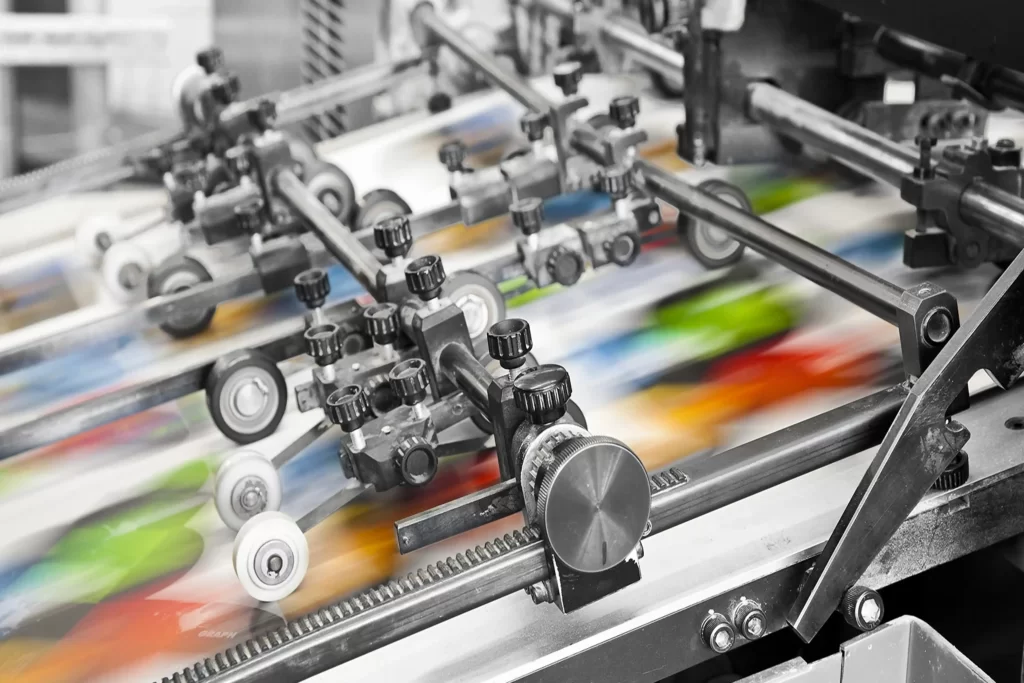 We can print the boxes with the very wide sizes such as white appliance boxes and serve you with the soft touch varnish, high gloss UV varnish, or selective UV varnish applications on the surface of the box in addition to water based matt varnish and dispersion varnish with our printing machines having advance technology. We see the importance of technology in the printing as much as visuality in the design with the appreciation and satisfaction notifications we get from our customers. Our integrated production facility equipped with state-of-the-art technology and our machine park established with KBA machines of European origin endeavor for providing the most beautiful service to our customers.
Canpak Packaging maintains 3 modern offset printing machines in its body. These are KBA Rapida Offset Printing Machine (maximum size: 120 cm x 164 cm), Ultra Man Offset Printing Machine (maximum size: 110 cm x 160 cm), and Roland Offset Printing Machine (maximum size: 100 cm x 140 cm). KBA Rapida, being one of the largest big layer printing machine of the world, among these machines, is the machine coming forefront most among our printing machines. With a maximum printing area of 1.20 x 1.64 m, Rapida 164 is one of the largest printing machines with respect to the size of the layer that can be printed offset in the market today. With the printing area over 2 square meters and printing capacity of 15000 layers per hour, KBA Rapida 164 is the fastest offset machine in the sector per square meter. The largest printing area and printing area of approximately 30,000 square meter per hour offered by Rapida 164 indicates that this machine would be unrivalled for coming years.
Only KBA Rapida 164 name is known when super large sized offset printing is mentioned in the world. Since the emergence of this printing machine, layer offset printing with XXL size is redefined in the entire world because with this machine, super large sized offset printing can be done, such as XXL and over XXL boxes, 55-inch TV boxes, double door refrigerators, super XXL sized vacuum cleaner. Canpak Packaging, with this offset printing machine and machinery equipped with technology, is one of the important producers of white appliance boxes and big sized home appliance boxes of our country.
The printing machines of this size were actually produced for providing productivity when printing banner and poster printings at high amounts and the machines of this size class are still machines based on high labor today. Over the years, in addition to the banners and posters, a wider application range was developed for KBA Rapida 164. Today Rapida 164 printing machine is used for super large sized stands, high volume package and poster prints in our facilities. You can review various stands we produced in the display stand menu.
Silver Foil and Gold Foil:
There are the production options bringing the box package to the forefront in the shelf like gold foil and silver foil in the body of our company. With the foil, which is recently popular in the box packaging industry, we, as Canpak Packaging, are always after catching the perfect for our customers. The creative visual effects, created by the gold foil or silver foil, assist for indicating the message which the brand wants to give by ornamenting it on the box.
Varnish:
Varnish is the process applied to all or, optionally only a part of the carton surface, which is made for preventing the carton surface without scratching, moistening, protecting against sunlight and friction. Varnish can be used to all or some of the printed surface. We, as Canpak Packaging, can offer water-based matt dispersion varnish and water based gloss dispersion varnish applications, required for protecting your box packages.
OPP (cellophane) Coating:
Box packaging requirements of the products, which are shipped to long distances, maintained/used in dump environments, subjected to sunlight for a long time, subjected to scratching during logistic, contains differences. The cardboard and carton of such packages must be selected carefully and coated with OPP for increasing the package against external factors. We, as Canpak Packaging, can offer matt OPP, gloss OPP or metalized OPP (metallic OPP) coating service for various carton and cardboard classes.
Metallized OPP & UV Based Printing:
Institutionalized companies and brands aim to work with the packaging companies in cooperation for increasing the attractiveness of the box packages every day. Gold / Metallized OPP and UV printing is widely preferred for obtaining high quality and elite appearance. Actually Gold / Metallized OPP is like a thin barrier film (layer) giving a unique and superior appearance to the product by improving the decorative and esthetic properties of the package and with UV printing, gives a shiny and bright metallic appearance and has various advantages:
It gives a shiny and bright metallic appearance in the shelf such that it draws attention of the customers,
Provides resistance against beams, scratching, tear and other external factors,
UV inks are environment friendly, do not contain solvent and give almost zero carbon footprint.
​
Basically, such packages are used in the packaging of elite confectionaries, beverages and cosmetics for empowering the competitive advantage.
Embossing & Debossing:
Embossing is embossed printing. Two clichés are used during embossing production. With the usage of cliché, embossing is formed on the printing surface. The work place in the cliché called as female is hollow; the other cliché is called as male and the work places are at high. Carton is placed between male cliché which is in the printing machine and female cliché which is in the dieline machine. The cliché bulging pressurizes on the other cliché and the paper is embossed. Embossing is usually joined with gold foil or silver foil and it is ensured that three dimensional attractive images are formed on the print.